We recognise the huge contribution NHS staff give to everyone. If it weren't for them, who would deliver all the babies behind our hello mum letters?! While we owe midwives a special debt of gratitude, every single person who works for the NHS delivers an amazing service to this country.
So in order to say thank you in our own small way, we offer a discount for NHS employees.
Our babywear is soft, snuggly and a perfect gift for new mums, or a great purchase for your own baby. We offer babywear up to age 6 months, as well as blankets and gifts.
To get the discount code, please click here.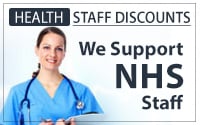 The discount code can be used for all NHS members of staff, not just staff in Watford.